The Maverick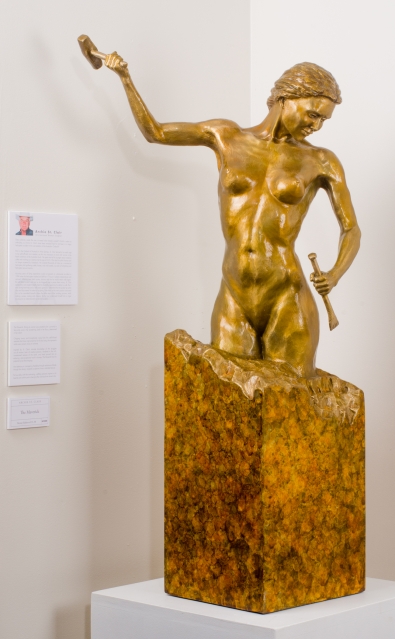 Look into the face of The Maverick and she will inspire you to search within your soul.
Really look and she will whisper, unveiling the possibilities, the desires, the passions, and the dreams you desire to dream.
Look a little longer in stillness and feel the fierce independence stirring, re-awakening the power and the beauty of your essential being, unleashing a sense of utter, abandoned joy that dares and inspires you to soar.
This is The Maverick. Strong as woman was created to be – powerful in her purity, sure in her awakening, bold in her focus, determined in her vision.
Chipping away and triumphantly rising from the self-inflicted restraints that have imprisoned her for far too long, she represents what every person strives to achieve.
Inspired by St. Clair's intimate knowledge of the struggles we all endure, born of creative passion, rendered in the rich, unrestrained textures of the earth, and hand poured into an enduring and exceptional work in bronze, The Maverick has the potential to be life-changing.
Her testimony to conquering hardship through endurance blazes through this strong, magnetic sculpture of raw, untainted beauty.
Medium: Bronze
Dimensions:
Limited Edition: 33
$23,000